October 2015
Foodman & Associates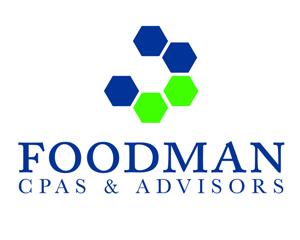 There are plenty of well-respected large, multinational and global CPA firms that provide outstanding services to their clients. Many people feel a higher sense of protection and more comfortable when they are under the care of a large household name. Others prefer a boutique CPA firm because of their ability to provide better personal attention and their low turnover (if any), that leads to familiarity with client needs and in most cases, the ability to get the work done more efficiently. In addition, boutique firm clients get to deal with the owner – which comes with perks, and get that high quality personalized service we all want in our business dealings.
The real answer to which type of firm is 'better', lies in the expertise that boutique firms develop over time. They find their niches, develop the practice and become specialists. Unlike CPAs at large firms, boutique CPAs, more often than not, do the work themselves. So, right off the start, the client is getting the expert, and not the associate.  At the end, the boutique accountant knows that he or she can't be everything to everybody, thus the need to specialize and differentiate from the large firms is their only path to success. Some examples of today's vast differentiation in specialty accounting focus are seen in the following examples, which revolve around some current hot topics in accounting.
The IRS is turning every stone in their search for dollars. For instance, FATCA (whose goal is to prevent international tax evasion), requires foreign financial institutions to report accounts held by US persons to the IRS. The foreign banks have become police officers for the IRS. Frankly, a lot of people don't know if they are a US person as defined by tax law, and many may be out of compliance. Few CPAs know the ins-and-outs of voluntary disclosure and minimizing tax liability. Sometimes you win the battle, but not the war.  If faced with this situation, find an accountant that specializes in FACTA that will help you win both the battle and the war – because combating the US Government in tax prosecution can be ruinous.
Many business owners don't understand tax law. For instance, in state sales tax law, violations occur more often than not, particularly in Florida. Ideally, a business owner would work with a CPA that will take the time to educate them on how to immunize themselves and their company against the risk of an audit.
What about employee fraud, misappropriation of revenues and assets in the workplace, and theft of proprietary information? Identity theft and big data hacks occur more frequently that most will admit. In a world where loyalty and compliance are always being questioned and tested, putting preventive systems in place in these areas is a must. You want a CPA that is willing to roll up their sleeves and take the extra step to re-review your operations and back-up accounting data.  Re-reviewing is important because it usually prompts the CPA to double check his or her big picture, or 'panoramic view' of the matter at hand.
The US is still considered the most stable safe haven in the world. Many people from around the world are still fleeing economic and/or political instability.  South Florida is a place where many want to make an investment or start a business.  The collaborative approach of bringing lawyers, bankers, accountants, wealth planners and other professionals together is the best course of action for these people because nobody knows everything.  Boutique CPAs tend to be better team players, and run well and work cooperatively in these packs.
The take away here is that the boutique CPA firm, depending on what you need, will have the flexibility, versatility and adaptability that is needed to deliver tailored solutions.  These types of solutions (the ones that should command value over pricing), are the pride and joy of the boutique CPA firm as they have all been individually created for those unique situations. Finally, boutique CPAs are typically the pioneers with new and challenging accounting issues, and usually the first up to bat with them.