September 2020
Foodman website and JD Supra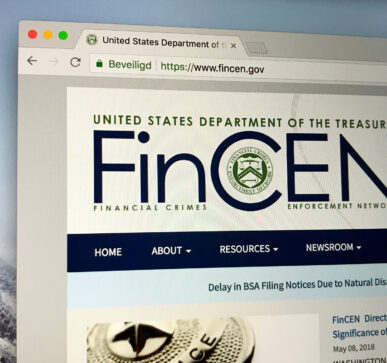 FinCEN's (a bureau of the U.S. Department of the Treasury) primary purpose is protecting the financial system from illicit use, combating money laundering, and promoting national security through the collection, analysis, and dissemination of financial intelligence and the strategic use of financial authorities. Its core activity is to "follow the money". Its duties and responsibilities are focused on the "central collection, analysis, and dissemination of data reported under its regulations and other related data in support of government and financial industry partners at the Federal, State, local, and international levels".
The FinCEN Query
The FinCEN Query (FCQ) was developed by FinCEN as part of the Bank Secrecy Act (BSA) Information Technology Modernization Program. It is accessed via the secure FinCEN Portal. It supports a wide range of law enforcement and regulatory users. It permits them to perform report and data information queries on the millions of BSA reports housed within the FCQ database. The database may provide alerts to financial institutions, regulators, and law enforcement, thereby allowing enforcement actions, deterring criminal activity and detecting/apprehending criminals. This results in more prohibited actions being uncovered and financial institutions being better able to provide more reliable reporting.
The Query
The FinCEN Query is a primary search tool used by its MOU (Memorandum of Understanding) partners for accessing Bank Secrecy Act (BSA) data. Offering multiple query options and the ability to import lists, FinCEN maintains data access MOUs with over 12,700 authorized users (federal, state, and local agencies across the country). This web‐based search engine serves Stakeholders that include the U.S. Department of Homeland Security, U.S. Internal Revenue Service, the U.S. Securities and Exchange Commission, the Federal Deposit Insurance Corporation, the Federal Bureau of Investigation, and the U.S. Immigration and Customs Enforcement.
Exchanging financial intelligence is convergence
Although FinCEN is the lead regulator and responsible for the administration of BSA/AML, FinCEN does not have independent litigation authority. The US Treasury and FinCEN have led efforts to identify BSA goals and priorities such as issuing a national strategy and risk assessments for combating illicit financing crimes. They have established key mechanisms for BSA/AML collaboration, such as interagency working groups, information-sharing agreements, and liaison positions that encompass multiple federal, state, and local agencies and private-sector participants.
Financial Institutions ought to be aware that government agencies, including the U.S. Treasury, FinCEN, and the federal banking agencies (Board of Governors of the Federal Reserve System (Federal Reserve), Federal Deposit Insurance Corporation (FDIC), National Credit Union Administration (NCUA), and Office of the Comptroller of the Currency (OCC) are coming together as "a single unit" of information sharing and regulation. There is an "interrelation" occurring as a result of the analysis capabilities that "Big Data" offers when combined with technical capabilities (such as the FinCEN Query) and artificial intelligence.
Financial Institutions ought to consult their Corporate Governance Compliance Expert.