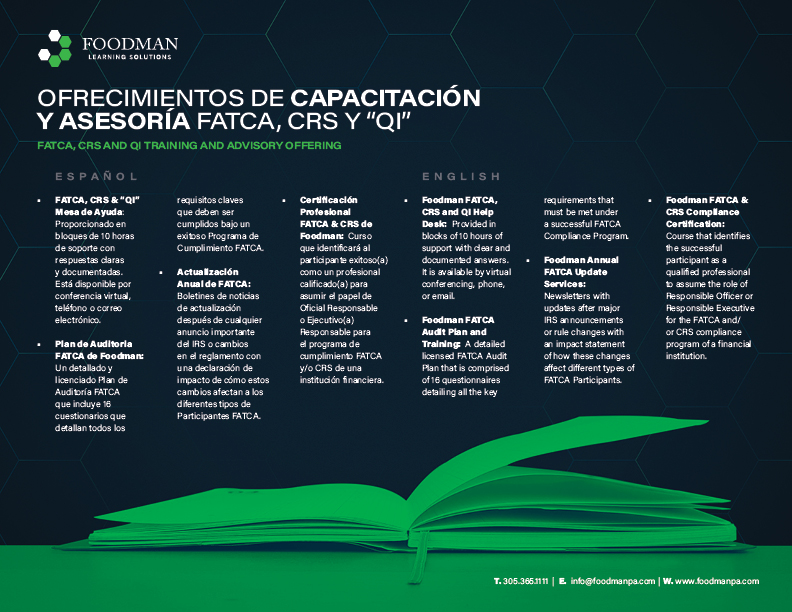 Capacitación y Asesoría FATCA para Instituciones Financieras Extranjeras y Estadounidenses
La Filosofía y el Enfoque de Foodman
Foodman PA es una de las firmas de Gobierno Corporativo más respetadas de la Florida. Constantemente clasificada entre las principales firmas de contabilidad del sur de la Florida, Foodman representa a clientes a nivel local, nacional e internacional.
Foodman, P.A. - identificó el desafío "FATCA" con la aprobación de la ley en el 2010 y ha desarrollado un enfoque escalonado, práctico y personalizado para ayudar a las "FFIs" y a las "USFIs" con la implementación de FATCA. Los elementos clave de este enfoque incluyen:
Consultores con alta experiencia quien cada uno combina una experiencia extensiva en contabilidad, impuestos y banca (más de 20 años) con profunda experiencia en FATCA y habilidades de liderazgo de proyectos.
Especialistas de Impuestos Estadounidenses altamente experimentados que apoyan a los Consultores con Interpretación Regulatoria.
Personal de gestión y soporte de proyectos disponible cuando el cliente requiere soporte adicional. Esto es completamente opcional y se alienta a la Institución Financiera a utilizar sus propios recursos internos bajo el liderazgo de Foodman para minimizar los costos de los proyectos.
Una filosofía de empoderamiento en la que los Asesores de Foodman capaciten y faciliten las herramientas y el liderazgo necesarios para que las "FFIs" y las "USFIs" lleven a cabo la mayor parte del trabajo por sí mismos que eligen minimizando así los costos del proyecto
Una amplia gama de servicios de capacitación y apoyo, disponibles en inglés y en español que son únicos en su enfoque práctico de implementación.
FATCA Training and Advisory Services for Foreign and U.S. Financial Institutions
The Foodman Philosophy and Approach
Foodman PA is one of Florida's most respected Corporate Governance firms.  Consistently ranked among the top accounting firms in South Florida, Foodman represents clients locally, nationally, and internationally.
Foodman, P.A. - identified the "FATCA" challenge with the passage of the law in 2010 and has developed a practical cost-effective phased approach customized to assist FFIs and USFIs with the implementation of FATCA. Key elements of this approach include:
Highly experienced Consultants who each combine extensive Accounting, Tax and Banking Experience (20 years plus) with in depth FATCA Expertise and Project Leadership Skills.
Highly experienced U.S. Tax Specialists who support the Consultants with Regulatory Interpretation.
Project Management and Support Staff available as and when the client requires additional support. This is completely optional and Financial Institution are encouraged to use their own internal resources under Foodman Leadership to minimize project costs.
An empowering philosophy where Foodman Advisors train and facilitate the necessary tools and leadership for the FFIs and USFIs to carry out as much of the work themselves as they elect thereby minimizing project costs
A wide range of training and support services, available in English and in Spanish that are unique in their practical approach to implementation.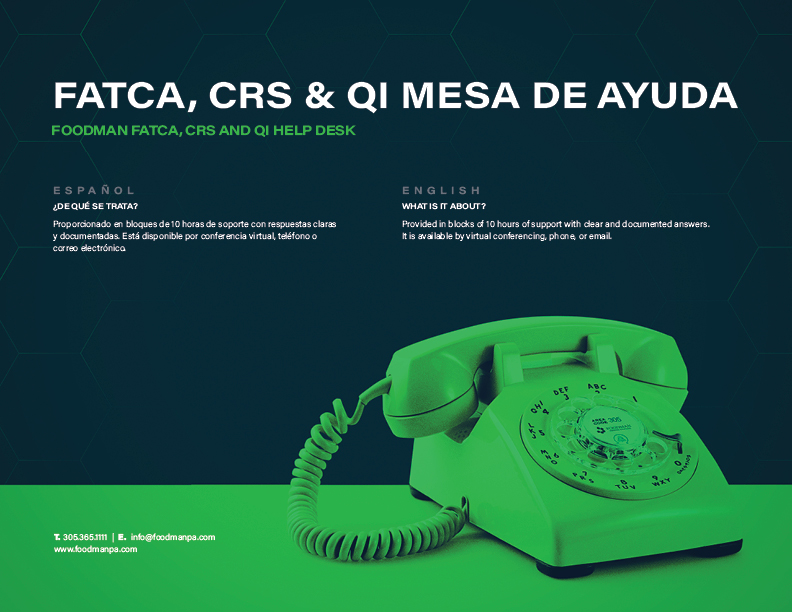 Mesa de Ayuda FATCA para las "FFIs" y "USFIs"
La Mesa de Ayuda FATCA está disponible para nuestros clientes vía conferencia virtual, teléfono o correo electrónico y se utiliza para aclarar o responder a cualquier pregunta específica que nuestros clientes puedan tener sobre la regulación FATCA.
Se proporciona en bloques de 10 horas de soporte de Mesa de Ayuda y el cliente puede renovar cuando lo necesite.
Los especialistas de FOODMAN de FATCA han estado interpretando y aclarando preguntas sobre el código del IRS durante más de 35 años. El reglamento FATCA, capítulo 4 del Código del IRS, es complejo. Nuestros especialistas de la Mesa de Ayuda tienen acceso al código del IRS y a otras fuentes de interpretación legal.  Nuestras respuestas a nuestros clientes son claras, documentadas y disponibles en inglés o en español.
FATCA Help Desk for FFIs and USFIs
The Foodman FATCA Help Desk is available to our clients via virtual conferencing, phone, or email. It is used to clarify or answer any specific questions that our clients may have regarding the FATCA regulations.
Provided in blocks of 10 hours of Help Desk Support, the client can renew as and when they need it.
Foodman FATCA specialists have been interpreting and clarifying IRS Code questions for more than 35 years. The FATCA regulation, chapter 4 of the IRS Code, is complex. Our Help Desk specialists have access to the IRS Code and to other sources of legal interpretation. Our responses to our clients are clear, documented, and available in English or in Spanish.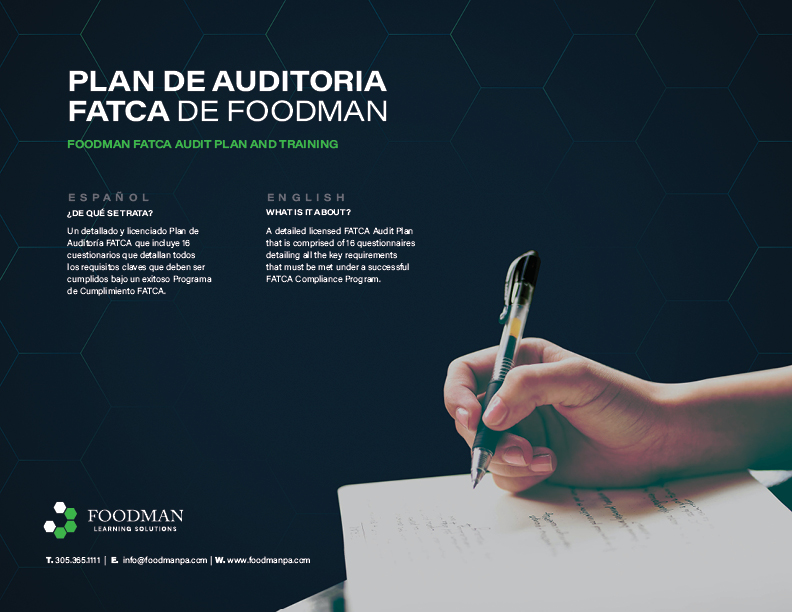 Plan de Auditoria FATCA de Foodman
El Reglamento FATCA exige que las "FFIs" lleven a cabo revisiones periódicas de auditoría interna de su Cumplimiento FATCA.
Foodman ha desarrollado un detallado Plan de Auditoría FATCA que incluye 16 cuestionarios que detallan todos los requisitos clave que deben ser revisados y cumplidos bajo un exitoso Programa de Cumplimiento FATCA. Este Plan de Auditoría se puede comprar bajo licencia y está disponible en inglés y español.
Foodman también ha diseñado una Capacitación FATCA para Auditores Internos. Esta capacitación se dirige específicamente a los futuros usuarios del Plan de Auditoría FATCA de Foodman.
Foodman FATCA Audit Plan and Training
The FATCA Regulations require that FFIs carry out periodic internal audit reviews of their FATCA Compliance.
Foodman has developed a detailed FATCA Audit Plan comprising includes 16 questionnaires that detail all key requirements that ought to be reviewed and complied with under a successful FATCA Compliance Program. This Audit Plan can be purchased under license. It is available in English and Spanish.
Foodman has designed FATCA Training for Internal auditors as well. This training specifically targets future users of Foodman's FATCA Audit Plan.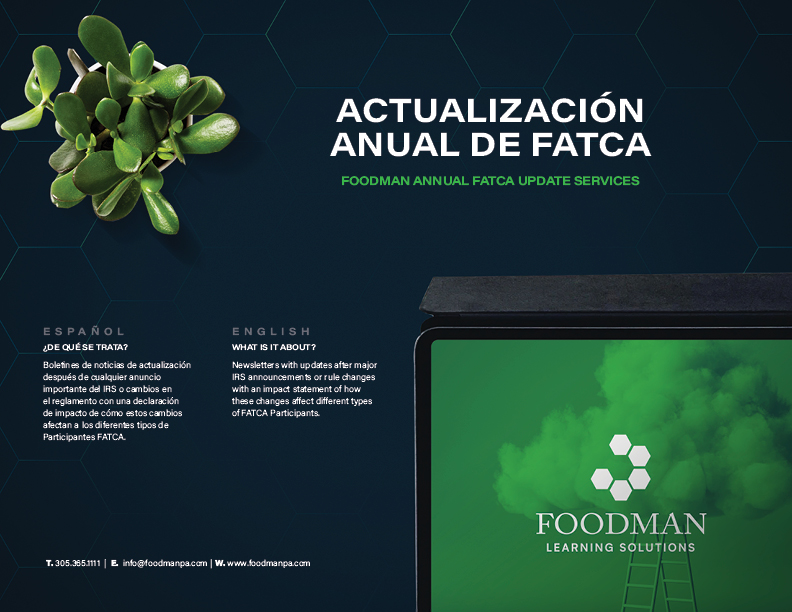 Actualización Anual de FATCA
Foodman PA ofrece a sus clientes un servicio anual de actualización regulatoria sobre cualquier cambio futuro relacionado con FATCA. Esto incluirá un boletín de noticias de actualización, en inglés o español, después de cualquier anuncio importante del IRS o cambios en el reglamento con una declaración de impacto de cómo estos cambios afectan a los diferentes tipos de Participantes FATCA (Participantes Directos, IGA2 o IGA1).
Annual FATCA Update
Foodman PA offers its clients an annual regulatory update service on any future FATCA related changes that take place. This will include an updated newsletter, in English or Spanish, following any major announcements or changes in the regulation with an impact statement of how these changes affect the different types FATCA Participants (Direct Participants, IGA2 or IGA1).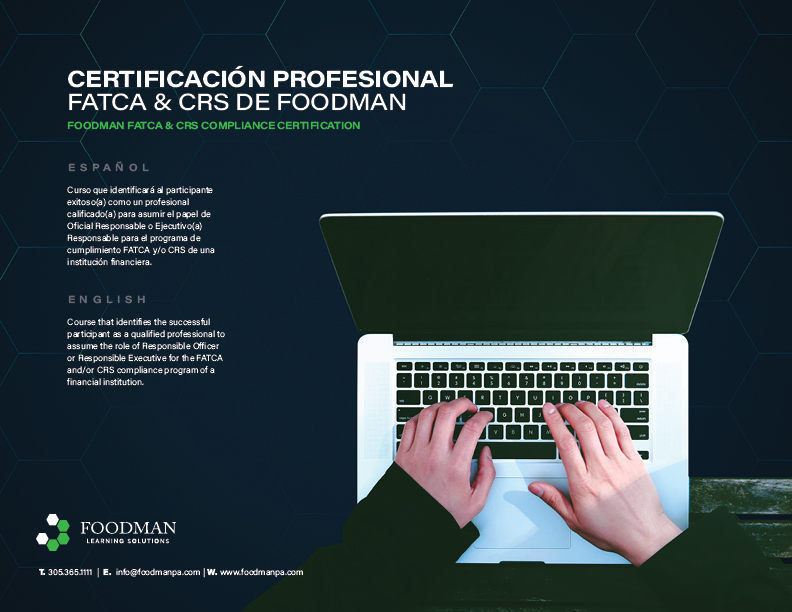 Certificación Profesional de Foodman de FATCA & CRS
Este curso está diseñado para profesionales financieros con un mínimo de tres años de experiencia en cumplimiento regulatorio.  Está diseñado para prepararlos para implementar y supervisar los Programas de Cumplimiento FATCA y CRS de una institución financiera.
El curso se divide en seis (6) módulos, cada uno de los cuales debe tardar entre 1 y 4 horas en completarse.  Cada módulo tiene un conjunto de ejercicios y preguntas de práctica que debe estudiar cuidadosamente para garantizar su comprensión del material.
Cuando haya terminado su revisión del material, tendrá un examen final de preguntas de opción múltiple que cubren todo el material del curso.  Se requiere una puntuación del 75% o mejor para pasar con éxito el curso.
El uso continuado de la designación requerirá que participe en un mínimo de diez (10) horas de educación continua anualmente en el área de cumplimiento tributario internacional, incluyendo un curso de actualización de dos horas ofrecido anualmente por "Foodman Learning Solutions".  Además, debe aprobar con éxito un examen anual de recalificación.
Foodman FATCA & CRS Compliance Certification
This course is designed for financial professionals with a minimum of three years of experience in regulatory compliance.  It is designed to prepare them to implement and supervise a financial institution's FATCA and CRS Compliance Programs.
The course is divided into six (6) Modules, each of which should take between 1 to 4 hours to complete.  Each module has a set of exercises and practice questions that you should study carefully to ensure your understanding of the material.
When you have finished your review of the material, you will have a final exam of multiple-choice questions covering the entire course material.  A score of 75% or better is required to successfully pass the course.
Continued use of the designation will require you to participate in a minimum of ten (10) hours of continuing education annually in the area of international tax compliance, including a two-hour refresher course offered annually by Foodman Learning Solutions.  Additionally, you must pass an annual re-qualifying exam.
Additional FATCA/CRS and AML Articles