June 2016
Foodman CPAs & Advisors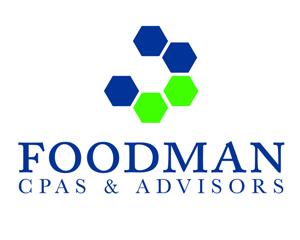 There seems to be some confusion regarding who must file a Report of Foreign Bank and Financial Accounts (FBAR) and who must file form 8938 Statement of Specified Foreign Financial Assets. This is not a surprise. While both forms are administered by IRS, the FBAR is a form created by the Financial Crimes Center (FinCEN) as a result of requirements contained in Title 31 of the Code of Federal Regulations. It is administered by the IRS on behalf of FinCEN. Form 8938 is a form created by IRS based on changes to Title 26 of the Code of Federal Regulations – Internal Revenue Code (IRC) included with IRC Chapter 4 (FATCA) signed into law in March 2010.
Each of the forms uses a different amount(s) triggering filing by U.S. Taxpayers.
The FBAR is a requirement for any "U.S. person" with a financial interest in or signatory authority in foreign financial accounts, if at any time during any year for which the U.S. Taxpayer has a financial interest in or signatory authority in foreign financial accounts, the aggregate value of the account or foreign accounts exceeds $ 10,000.00. It includes a person who has authorized signature on the account, even if the person does not have a financial interest.

Example Per the FinCEN Reference Guide: Kristin, a United States person, owns foreign financial accounts A, B and C with account balances of $3,000, $1,000 and $8,000, respectively. Kristin is required to report accounts A, B and C because the aggregate value of the accounts is over $10,000. It does not matter that no single account exceeded $10,000.

Form 8938 must be filed by any U.S. Taxpayer (specified individuals), which include U.S citizens, resident aliens, and certain non-resident aliens that have an aggregate interest in specified foreign financial assets and meet a specified U.S. dollar value reporting threshold.
It is important to keep in mind that while amounts triggering filing may differ for each of the two forms, there is one area in which double reporting is required. When FBAR filing is required and the aggregated dollar amounts being reported are large enough to trigger filing a Form 8938, all of the information contained in the FBAR must be duplicated on Form 8938 for that year. Additionally, even if a FBAR filer has a financial interest in 25 or more financial accounts, checks the box "Yes" to question 14a of the FBAR and is not required to provide the detailed information otherwise required for each reportable financial account, the full detail of each financial account must be reported on Form 8938 if the U.S. taxpayer is otherwise required to file Form 8938.
Included below are two 3 three column charts.
The first chart compares each of the two forms and the IRS published requirements for filing both forms. It details similarities and differences between the two forms, clears up filing trigger amounts and who must file each form within their distinct filing triggers.
The second chart details the types of reportable foreign financial assets required for inclusion in Form 8938.

Assets reportable on Form 8938 are reported at fair market value in U.S. dollars in accord with the Form 8938 instructions for each account and asset reported, converted to U.S. dollars using the U.S. treasury end of the taxable year exchange rate and report in U.S. dollars.
  
Form 8938, Statement of Specified Foreign Financial Assets
FinCEN Form 114, Report of Foreign Bank and Financial Accounts (FBAR)
Who Must File?
Specified individuals, which include U.S citizens, resident aliens, and certain non-resident aliens that have an interest in specified foreign financial assets and meet the reporting threshold
U.S. persons, which include U.S. citizens, resident aliens, trusts, estates, and domestic entities that have an interest in foreign financial accounts and meet the reporting threshold
Does the United States include U.S. territories?
No
Yes, resident aliens of U.S territories and U.S. territory entities are subject to FBAR reporting
Reporting Threshold (Total Value of Assets)
Taxpayers living in the US:

·         Unmarried taxpayer (or married filing separately): Total value of assets was more than $50,000 on the last day of the tax year, or more than $75,000 at any time during the year.

·         Married taxpayer filing jointly: Total value of assets was more than $100,000 on the last day of the tax year, or more than $150,000 at any time during the year.

Taxpayers living outside the US:

·         Unmarried taxpayer (or married filing separately): Total value of assets was more than $200,000 on the last day of the tax year, or more than $300,000 at any time during the year.

·         Married taxpayer filing jointly: Total value of assets was more than $400,000 on the last day of the tax year, or more than $600,000 at any time during the year.

Aggregate value of financial accounts exceeds $10,000 at any time during the calendar year. This is a cumulative balance, meaning if you have a combined account balance of $12,000 at any one time (but divided between 2 accounts), both accounts would have to be reported.
When do you have an interest in an account or asset?
If any income, gains, losses, deductions, credits, gross proceeds, or distributions from holding or disposing of the account or asset are or would be required to be reported, included, or otherwise reflected on your income tax return
Financial interest: you are the owner of record or holder of legal title; the owner of record or holder of legal title is your agent or representative; you have a sufficient interest in the entity that is the owner of record or holder of legal title.

Signature authority: you have authority to control the disposition of the assets in the account by direct communication with the financial institution maintaining the account.

See instructions for further details.

What is Reported?
Maximum value of specified foreign financial assets, which include financial accounts with foreign financial institutions and certain other foreign non-account investment assets
Maximum value of financial accounts maintained by a financial institution physically located in a foreign country
How are maximum account or asset values determined and reported?
Fair market value in U.S. dollars in accord with the Form 8938 instructions for each account and asset reported

Convert to U.S. dollars using the end of the taxable year exchange rate and report in U.S. dollars.

Use periodic account statements to determine the maximum value in the currency of the account.

Convert to U.S. dollars using the end of the calendar year exchange rate and report in U.S. dollars.

When Due?
Form is attached to your annual return and due on the date of that return, including any applicable extensions
Received by June 30 (no extensions of time granted)
Where to File?
File with income tax return pursuant to instructions for filing the return. Form 8938 and Instructions can be found atwww.irs.gov/form8938
File electronically through FinCENs BSA E-Filing System. The FBAR is not filed with a federal tax return.
Penalties
Up to $10,000 for failure to disclose and an additional $10,000 for each 30 days of non-filing after IRS notice of a failure to disclose, for a potential maximum penalty of $60,000; criminal penalties may also apply
If non-willful, up to $10,000; if willful, up to the greater of $100,000 or 50 percent of account balances; criminal penalties may also apply
Types of Foreign Assets and Whether They are Reportable
Financial (deposit and custodial) accounts held at foreign financial institutions
Yes
Yes
Financial account held at a foreign branch of a U.S. financial institution
No
Yes
Financial account held at a U.S. branch of a foreign financial institution
No
No
Foreign financial account for which you have signature authority
No, unless you otherwise have an interest in the account as described above
Yes, subject to exceptions
Foreign stock or securities held in a financial account at a foreign financial institution
The account itself is subject to reporting, but the contents of the account do not have to be separately reported
The account itself is subject to reporting, but the contents of the account do not have to be separately reported
Foreign stock or securities not held in a financial account
Yes
No
Foreign partnership interests
Yes
No
Indirect interests in foreign financial assets through an entity
No
Yes, if sufficient ownership or beneficial interest (i.e., a greater than 50 percent interest) in the entity. See instructions for further detail.
Foreign mutual funds
Yes
Yes
Domestic mutual fund investing in foreign stocks and securities
No
No
Foreign accounts and foreign non-account investment assets held by foreign or domestic grantor trust for which you are the grantor
Yes, as to both foreign accounts and foreign non-account investment assets
Yes, as to foreign accounts
Foreign-issued life insurance or annuity contract with a cash-value
Yes
Yes
Foreign hedge funds and foreign private equity funds
Yes
No
Foreign real estate held directly
No
No
Foreign real estate held through a foreign entity
No, but the foreign entity itself is a specified foreign financial asset and its maximum value includes the value of the real estate
No
Foreign currency held directly
No
No
Precious Metals held directly
No
No
Personal property, held directly, such as art, antiques, jewelry, cars and other collectibles
No
No
'Social Security'- type program benefits provided by a foreign government
No
No