September 2020
Foodman website and JD Supra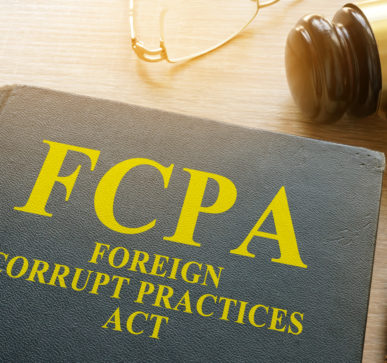 There are other U.S laws that intersect with the FCPA. A violation of the FCPA may also constitute a violation of the characteristics of another U.S. Law – in this case the Travel Act. If the conduct of an Entity or an Individual intersects the FCPA's antibribery or accounting provisions, the conduct of an Entity or an Individual can violate the Travel Act even if all the elements of an FCPA violation are not present according to the FCPA: A Resource Guide to the U.S. Foreign Corrupt Practices Act Second Edition.
The Travel Act (the "ACT")
The Act prohibits using the U.S. mail, or interstate or foreign travel, for the purpose of engaging in certain specified criminal acts. Its elements cover anyone who:
travels in interstate or foreign commerce, or
uses any facility in interstate or foreign commerce, or
uses the mail
With the intent to:
distribute the proceeds of an unlawful activity, defined as any business enterprise involving unlawful activities gambling, moonshining, drug dealing, or prostitution; or extortion, bribery, or arson; or any act which is indictable as money laundering; or
commit an act of violence to further an unlawful activity; or
otherwise: promote, manage, establish, carry on, or facilitate the promotion, management, establishment, or carrying on any unlawful activity.
And thereafter:
distributes or attempts to distribute such proceeds, or
commits or attempts to commit such act of violence, or
promotes, manages, establishes, carries on, or facilitates the promotion, management, establishment, or carrying on such unlawful activities or attempts to do so.
"Unlawful activity" includes violations of the FCPA and state commercial bribery laws
Bribery between private commercial enterprises may be covered by the Travel Act. Meaning, "if a company pays kickbacks to an employee of a private company who is not a foreign official, such private-to-private bribery could possibly be charged under the Travel Act".
The Travel Act also connects to the FCPA because the Act applies to foreign and interstate commerce; it can be also used to prosecute those US companies and individuals which engage in bribery and corruption of foreign officials AND commercial bribery and corruption of private foreign citizens. Thus, it targets bribery and kickbacks which are traceable through forensic accounting investigations.
The U.S. Department of Justice (DOJ) continues to prioritize anti-fraud enforcement through the aggressive use of different statutes and investigative methods and the Travel Act is one of the tools in the DOJ's arsenal
The FCPA's Resource Guide states that Entities and Individuals ought to realize that whether an entity is an instrumentality of a foreign government or a private entity, commercial bribery may still violate the FCPA's accounting provisions; including the Travel Act, as well as AML laws, and other federal or foreign laws. Consequently, any type of corrupt payment carries a risk of prosecution by the DOJ. Consult your Corporate Governance Compliance Expert.